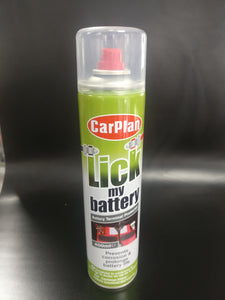 Lick my battery, battery terminal protector - 400 ml
€5,27

€5,27
Tax included.
---
---
Suitable for: battery terminals and earthing straps in cars, vans, trucks, trains, marine engines and plant hire equipment.
Prevents corrosion and prolongs battery life. Battery Terminal Protector is a conductive formulation designed to clean dirt and prevents corrosion and prolongs battery life. It dries quickly to leave a soft, protective film which waterproofs, repels moisture and prevents any further corrosion.
Improves electrical conductivity which helps improve starting and prolongs the battery life, especially on the cold winter mornings.
---
We Also Recommend