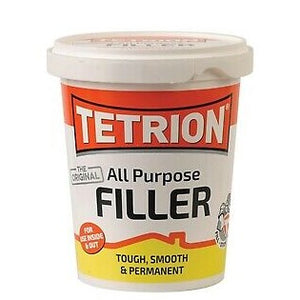 Tetrion TRM606 Ready Mixed All Purpose Filler 600g
€5,16

€5,16
Tax included.
---
---
Tetrion TRM606 Ready Mixed All Purpose Filler 600g
Tetrion All Purpose Filler is also available in a Ready Mixed format, offering all the same benefits as the powder formulation but with the added advantage of easier preparation. It seals and fills most household materials including plaster, wood, stone, concrete and brickwork. Available in various sizes of pots as well as a convenient ready mixed tube.
ADVANTAGES
Water and weather resistant 
Drillable and tappable
Resistant to vibration, shrinkage, sagging and cracking
Resilientto expansion and contraction
Highly versatile- Suitable for multiple surface applications
Ready mixed for convenience for quick repair jobs
Super smooth
High strength polymer re-enforced
Over-paintable
APPLICATION
Ensure all surfaces are dry, clean and free from loose materials.
If required stir before use and add a few drops of water to improve workability. If you are using the tube, work the tube with your fingers.
Apply with a filling knife and smooth off immidiately with a wet blade.
Setting will occur in approximately 4-6 hours depending on the depth of fill and atmospheric conditions.
After 24 hours filler can be sanded and then overpainted with most household paints.
Overpaint with an oil based paint when sed externally. Prime with a suitable sealer when overpainting with a water-based paint.
After using the product, replace the plastic disc and lid to ensure remaining filler stays in good condition.
Advice: Tetrion All Purpose  Ready Mixed filler should be applied in layers of no less than 3mm and no greater than 10mm to ensure adhesion.
Tetrion All Purpose Ready Mixed can be drilled or tapped provided that the depth of the set filler is at least equal to that of the screw/plug.
Under long term storage, the product may seperate slightly, if this is the case, stir before use.
 Important: Do not use in wet or damp conditions or use on surfaces regularly underwater. Do not sandwich between layers of paint and/or sealants. 
---
We Also Recommend