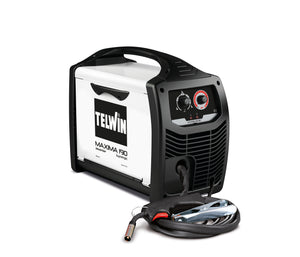 Maxima 190 Synergic
€695,02

€695,02
Tax included.
---
---
MAXIMA 190 SYNERGIC

Microprocessor controlled MIG-MAG/FLUX/BRAZING inverter wire welding machine. It allows great versatility in the use of various
types of materials (steel, stainless steel, aluminium) and in all possible applications, from maintenance to installation works.
The SYNERGIC adjustment of the welding parameters makes the products easy to use and grants excellent results, always, also for
the less experienced operator.
Light and compact, it can be easily carried in any intervention place, both inside and outside.
Features:
- Polarity reversal for GAS MIG-MAG/BRAZING welding
- Thermostatic,overvoltage, undervoltage, motorgenerator (+/- 15%) protections.
Fit for NO GAS/Flux welding, it can be transformed into MIG-MAG with the optional kit.
Complete with MIG-MAG torch, work clamp and cable.
---
We Also Recommend