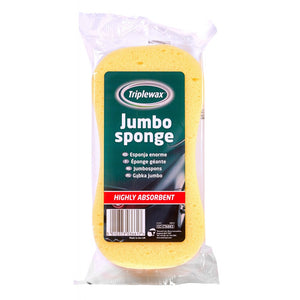 TRIPWAX JUMBO SPONGE
€2,19

€2,19
Tax included.
---
---
Triplewax CTA003 Jumbo Sponge (AC26)
Triplewax Jumbo Sponge is super absorbent and removes dirt and grime from paintwork, glass, trims, wheels and tyres. The jumbo surface area means you get effective cleaning with minimum effort, in less time, and the super soft surface will not scratch or damage the surface underneath.
ADVANTAGES
Flexible material ensures no dirt is left behind
Large surface area cleans effectively and in less time
Will not scratch or damage the surface
APPLICATION
Suitable for all types of cars, motorbikes and boats. Can also be used in the office or at home.
---
We Also Recommend