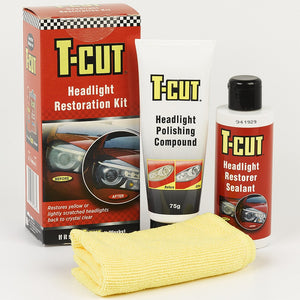 T-CUT HEADLIGHT RESTORATION KIT
€17,44

€17,44
Tax included.
---
---
T-Cut THK001 Headlight Restoration Kit
T-Cut Headlight Restoration Kit restores yellow or lightly scratched headlights back to crystal clear. This kit is a specially designed compound and sealant that works together to rejuvenate cloudy, scratched and yellow headlights back to a ''like new'' crystal clear finish. Created to improve headlight clarity and light visibility by removing abrasions and haziness from uncoated clear, plastic headlights. The compound plus sealant combination leaves the treated area brilliantly clear, polished and protected. This kit does not require the use of drills or tools and is the ideal solution for a do-it-yourself remedy that is effective and easy to use.
Kit contains:
T-Cut Headlight Polishing Compound 75g
T-Cut Headlight Restoration Sealant 125ml
Microfibre Cloth
Winner of the Which Best Buy Award!
APPLICATION
Polishing Compound
Restore one headlight at a time.
Wash headlight with a quality shampoo such as T-Cut Power Wash to remove any surface dirt.
Use masking tape to protect the painted surface around the headlight,
Apply T-Cut Headlight Polishing Compound to microfibre cloth provided. Buff away any yellowing.
Remove any remaining product with microfibre. T-Cut Headlight Restorer Sealant repels sunlight, rain and birdtime, whilst sealing the surface to prevent the lens from fading or oxidising. The easy to apply formula leaves no white residue, bonds to the lens, sealing in a long lasting showroom shine and lustre.
Restoration Sealant
After using T-Cut Headlight Restorer Polishing Compound, ensure all residue has been removed using the microfibre cloth provided.
Shake T-Cut Headlight Restorer Sealant bottle well.
Pour a small amount of T-Cut Headlight Restorer Sealant onto the microfibre.
Wipe over lens in circular motions, ensuring that the entire lens is covered (use more sealant if required) this will seal in the shine & to remove any visible scratches.
Use the microfibre cloth to wipe away any excess liquid.
---
We Also Recommend