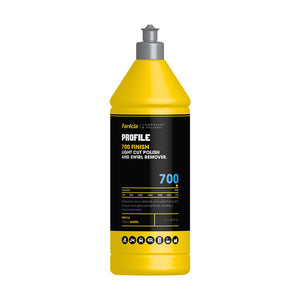 1 LT PROFILE 700 COMPOUND (STAGE 2)
€42,52

€42,52
Tax included.
---
---
PROFILE 700 FINISH LIGHT CUT POLISH & SWIRL REMOVER

Eliminates minor defects and swirls from paint, lacquer and gelcoat surfaces, leaving a mirror shine finish
Now VOC-free
Enhanced workability
Very easy wipe off

Profile 700 Finish Light Cut Polish & Swirl Remover is a very fine finishing compound designed to remove any light swirl marks and holograms from high quality painted lacquered and gel coat surfaces to leave the ultimate high gloss finish. It will not scratch and is particularly good on soft coatings which are susceptible to swirl marks.

Profile 700 Finish is ideally applied using a Farécla G Mop Finishing Foam, which was engineered in tandem with the compound to provide optimum performance. For a higher cut, use with a G Mop Lambs Wool Pad.
---
We Also Recommend