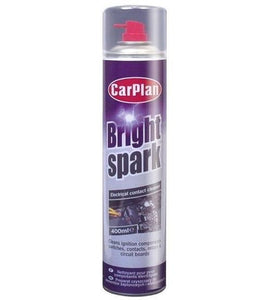 CARPLAN BRIGHT SPARK 400ML
€4,28

€4,28
Tax included.
---
---
Cleans dirt, oil, grease, oxide deposits, fuel, dust and routine grime build up
Ideal for cleaning ignition components and other electrical parts
Non invasive scent and speedy evaporation
CarPlan Bright Spark 400ml is an electrical contact cleaner which contains degreasing solvents in its advanced formula, effectively removing dust, dirt, oil, oxide, grease, deposits, fuel and routine grime from electrical parts. It can also be used round the house for cleaning cds and DVDs. The formula has a non invasive scent and evaporates speedily.
How to use
Shake can vigorously and hold upright when applying. Make sure power is turned off prior to use and let parts cool down.
Apply Bright Spark freely onto the surface of the part being cleaned. Let item dry and leave a few seconds to cut through the dirt and dust. Make sure item has completely dried before turning power back on.