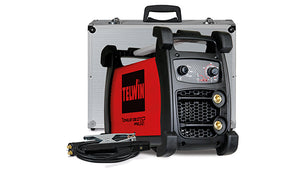 TECHNOLOGY 238 XT CE/MPGE
€612,37

€612,37
Tax included.
---
---
MMA and TIG inverter, electrode welding machine in direct current (DC) with scratch striking.
Use with a wide range of electrodes: rutile, basic, stainless steel, cast iron, cellulosic, etc.
Recommended for motorgenerators, this model grants high performance despite power supply instability, thanks to the MPGE multiprotections: control device of the wave form, filter against input peaks, stabilization of oscillations. Robust and impact resistant.
Features:
- compact and light
- Ø 50mm quick connector (socket)
- high welding current stability in spite of mains voltage fluctuations
- regulation of arc force and hot start according to the type of electrode in use
- anti-stick device
- thermostatic, overvoltage, undervoltage, overcurrent protections.
Complete with MMA welding accessories and aluminium carry case.
---
We Also Recommend