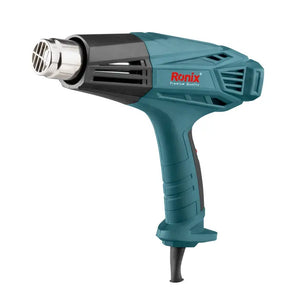 RONIX HEAT GUN 2000w
€30,68

€30,68
Tax included.
---
---
Efficient, lightweight, safe, and HOT, Ronix 1104 heat gun is all you need to ace tasks like drying and removing paint or curing epoxy resin!
 

Everything You Need to Know About Ronix 1104 Heat Gun 

Ronix 1104 heat gun has ensured power, flexibility, performance, and durability that come from a collection of important and useful features. 
Let's take a closer look:   
 

Mechanism:

Plugged in a 220 or 240V outlet of 50-60Hz frequency, 1104's 2000W element can heat up the air to 450 or 600°C within a few seconds. This hot air is pushed through the nozzle with 2 modes of airflow speed control (450°C, 250l/min; 600°C, 500l/min) to take care of any task in your work site. 
1104 mechanism of work includes a constant heat control that is specifically engineered for continuous work without overheating.
 

Built-in Overload Protection:

Thanks to its built-in overload protection system, you need not worry about overheating during long hours of work. If ever the load builds up, this system immediately shuts down the heating element and protects the device from burning up in order to extend its service life. 
 

Body:

1104 is a 0.8 kg compact and ergonomic power tool and since it has a comfy handle and a non-slip surface, working with it is simple and convenient. 
 

Packaging and Accessories:

This perfect heat gun is offered in a color box that includes 3 Nozzles and a scraper tool to help you make the most of the product.  
---
We Also Recommend