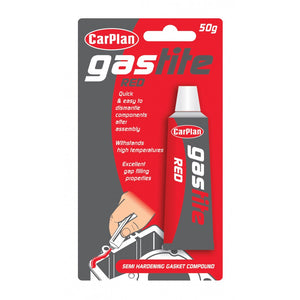 GASTITE RED 50GM
€6,29

€6,29
Tax included.
---
---
CarPlan GRG050 Gastite Red 50g
CarPlan Engine Lacquer Gloss is a high quality long lasting paint - Specially designed to cope with heat up to 150°C. Its ideal for painting engine blocks Inlets both plastic and metal. CarPlan Engine Lacquer gives a bright, protective, coating that will resist petrol, oil, diesel fuel and general under-the-bonnet grime.
 ADVANTAGES
Quick & easy to dismantle components after assembly
Withstands high temperatures (from -40°C - 250°C)
Resistant to petrol, diesel, oil, water, steam & anti freeze
Excellent gap filling properties
Holds gaskets in place during assembly
APPLICATION
Ensure surfaces are clean, dry and free from oil, grease, rust or dirt. Remove cap from tube, pierce top and apply evenly over both surfaces. Leave for a few minutes then apply parts. Excess compound can be removed with methylated spirits. Replace cap after use.