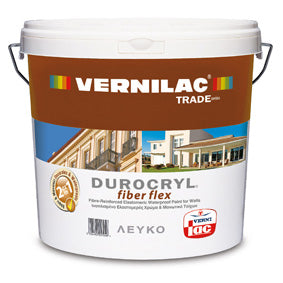 Façade Fibre Flex Paint, White 9 LT
€58,00

€58,00
Tax included.
---
---
The special composition of DUROCRYL FIBER FLEX, reinforced with fibers, protects and decorates, covering the surfaces with a hard, durable and at the base of the elastic mantle, which "monitors" the expansion and contraction of the surfaces, giving flawless perfect finish with high results. and excellent matte decorative finish capable of covering the small imperfections of the surfaces.
It remains elastic at temperatures from -20 ° C to + 80 ° C, without cracking. It covers capillaries, microcracks and is applied to any new or older building surface that has been painted with other plastic or acrylic paints, without requiring any special pre-treatment.
DUROCRYL FIBER FLEX offers high perspiration surfaces and is extremely resistant to adverse weather conditions, constant humidity, frost, intense sunshine, sudden temperature changes, but also pollution of cities. The final, white or colored finish, by DUROCRYL FIBER FLEX, remains unchanged for a very long time, shielding the exterior surfaces, just as no common acrylic paint can.
DUROCRYL FIBER FLEX, is at the top of the price-quality ratio and is the most economical solution for creating waterproof exterior surfaces, without moisture problems.
---
We Also Recommend