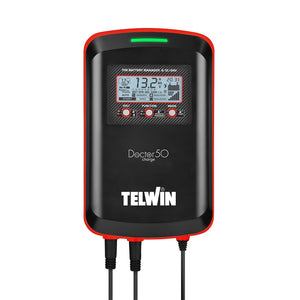 Doctor Charge 50
€437,78

€437,78
Tax included.
---
---
DOCTOR CHARGE 50

Multifunctional, electronic battery charger (BATTERY MANAGER) for complete maintenance of WET, GEL, AGM, MF, PbCa, EFB, Li
6V/12V/24V batteries and for support activities in interventions, including diagnostics, on vehicles carried out in workshops, body
shops and dealers.
The Pulse Tronic technology guarantees optimal battery charging over 8 phases.
Features:
- Automatic charging and maintenance in Pulse Tronic based on the technology of the selected battery;
- BOOST function for quick charge;
- COLD function for charging and maintenance of batteries at low temperatures;
- stable POWER SUPPLY for diagnostics (BSU) when changing the battery (SUPPLY) and maintain the battery health of vehicles on
display in showrooms;
- Batteries maintenance through RECOVERY function, to recover sulphated or very low batteries; and EQUALIZATION function to
restore optimal functionality with periodic regeneration;
- TESTER for checking terminal voltage, starting capacity (CCA) and vehicle alternator operation;
- Start aid;
- Cable extension compensation function;
- LCD display;
- Protection against overcharge, short circuit and polarity reversal.
Fit with PFC device.
Complete with cable with clamps.
---
We Also Recommend