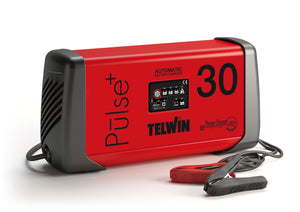 PULSE 30
€181,80

€181,80
Tax included.
---
---
6/12/24V electronic, automatic battery charger for WET,GEL, AGM, MF, SPIRAL, START-STOP batteries, for automatic charging/maintenance (PULSE TRONIC) and recovering of sulphated or very low batteries.
It is very easy to use, thanks to the automatic recognition of the type of battery, and the presenceof a user-friendly keypad.
The innovative Power Stream technology guarantees better performance, up to 50% more than traditional battery chargers thanks to more effective and complete control of the charging process, to notably faster charging times and maintenance of the optimal battery conditions, which guarantee a longer working life. The Pulse Tronic technology guarantees optimal battery charging over 8 phases which test, monitor, increase and maintain the charge state.
Features:
- automatic charging/maintenance, BOOST quick charge
- SMPS (Switch Mode Power Supply) Technology
- Pulse Tronic charge with pulsed charge holding
- LED signalling of the charge state, end of charge and protection intervention
- sulphated battery recovery selection
- clamps not powered if disconnected from the battery
- anti-spark device, protection against short-circuits, polarity reversal, overvoltage at input and faulty battery.
Fit with PFC device.
---
We Also Recommend