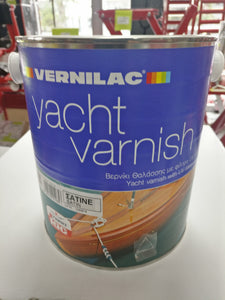 2.5Lt YACHT/WOOD VARNISH SATIN
€33,00

€33,00
Tax included.
---
---
A clear wood varnish ideal for the protection and decoration of any exterior
wooden surface. It is applied easily, smoothly and evenly on any wooden surface
made of softwood or hardwood and is highly recommended for yachts and
every exterior woodwork that is exposed to harsh weather conditions, such as
doors, windows, frames, trims, shutters, etc. YACHT VARNISH contains special
UV filters that protect the wooden surface against UV radiation and develops a
strong and highly durable finish that provides long term protection and beauty
that lasts.

Use on: Yachts and every exterior woodwork made of hardwood or softwood
(doors, windows, trims, shutters, etc.).
---
We Also Recommend