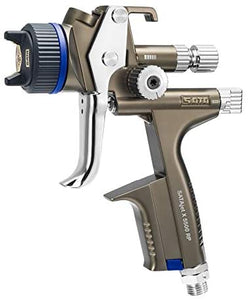 SATAjet X 5500 RP Spray Gun with 1.3mm Nozzzel set up
€784,70

€784,70
Tax included.
---
---
SATAjet X 5500 RP Spray Gun with 1.3mm Nozzzel set up
When a system is on the verge of reaching its tipping point, it is considered a "revolution". Something which radically challenges proven solutions already existing for decades, thus introducing a new Status Quo literally overnight, is called a "Game Changer". Because current
solutions are not automatically the best solutions. Our aim is, however, to offer the most innovative spray guns available to the market. For any type of painter. For all types of painters.

The new SATAjet X 5500 with the revolutionary SATA X-nozzle system will dramatically change the landscape of our industry. Revolutionary because: SATA is the first spray gun manufacturer to offer a nozzle system based on two distinct spray fan shapes for each nozzle size. Parallel and oval-shaped. Across the entire nozzle spectrum. Providing an incredible wealth of perfect solutions. For all kinds of painters. For all kinds of paint systems and climatic conditions. For all kinds of objects to be painted. Using only one spray gun. 

The SATAjet X 5500: Perfectly in sync with you. The first spray gun which is in complete harmony with you and your individual requirements.
---
We Also Recommend